(Last Updated On: March 31, 2023)
BecomeSingers is reader-supported. When you buy through links on our site, we may earn an affiliate commission. Learn More
There are two types of karaoke machines sold on the market; they are commercial and personal use; they have different features but work the same way. All types of karaoke machines can play the vocals of a music track and show the lyrics on a screen. The karaoke machine that is most used for home and commercial use is the all-in-one karaoke machine. There are a series of choices that are available in the markets.
There are a series of karaoke CDs, CD+Gs, Laserdiscs, DVD, and VCD tracks to select from to be played on the machine. They come in different sizes. The handheld karaoke systems are so small that they resemble MP3 players; there are also tabletop sizes and stand-alone units, which are quite significant. The essential components of a karaoke machine are microphone, music player, inputs, audio output, and pitch button controls. They usually feature an in-built audio mixer. In the good old day's cassettes were used in karaoke machines. Changing the speed of the playback also changed the pitch of the classic karaoke systems. However, the classic karaoke machines are almost nonexistent.
Factors to Take into Consideration When Differentiating Types of Karaoke Machines
Formats and Connectivity
The format is essential when making a choice. The different forms of input available are CD+G, DVD, VCD, and MP3 players. Options vary from machine to machine when it comes to its connectivity. If you need a karaoke machine connected to multiple devices such as tablets, phones, or TVs, opt for one that has more than one connectivity option. Make sure it has RCA, HDMI, USB, stereo and an iPod port.
Power Output
When choosing a karaoke machine, your primary focus should be the power about it. This allows you to determine the sound and volume of the machine. Different machines have different watts. Five watts are usually produced by the smaller machines, while some other karaoke machines can produce up to 300 watts. A watt of 90 should be sufficient in a domestic environment, but this also depends on what you need and the available space for the machine. You should get a machine that is under 90 watts if you intend it to be for personal use.
Quality of Sound
The essential thing to keep in mind when choosing is sound quality. They have varying quality of in-built speakers; the ones with low prices have shallow quality. If you are concerned about sound, then it is advised that you choose a high-end brand with high-quality speakers.
System Function
They feature an audio input and output, and there is also an in-built system which when music is played, changes the tone and pitch. This permits the adjustment of the singer's vocal range, giving her the allowance, she needs to sing comfortably. The machine hides the original artist's recorded voice while showing the video and allowing the instrumentals to keep playing. Therefore, the performer can sing along with the instrumentals while watching the lyrics on a screen.
Kids vs. Adults
Remember when you are making your choice, who will be using the machine. Will it be used at adult parties or for kids to use, which will help you decide if you want a complex machine or one that is kids friendly. This will depend on the intended use of the machine.
Portability
When it comes to portability, it depends on your preference. Would you like to take it to places with you? Or will it be permanently in your home? But this comes with its disadvantage and advantages. If you get a big machine, you will get excellent sound quality, but if you want a portable, moveable karaoke machine, then be sure that the sound quality won't be all that.
Displays and Music
Depending on what you intend to use this machine for, if you want to use it at parties or only for personal use when you decide, then choosing the right one will be much easier. Do you need an in-built display, or you just want to use your phone, TV, or tablet? Do you want to play songs through audio files on your phone or CDs? These are the questions you need to ask yourself because once you get your answers, shopping would be easier.
---
6 Types of Karaoke Machines
1) All-in-one Karaoke System
This particular karaoke system features everything you may need to read, play, and hear the song being sung. It has a monitor, a CD player, and speakers. Although they don't come with any music, if you have a CD library then you are all set for a party with your karaoke system, if you do not, you will have to get CDs before using the machine. The monitors are functional but do not go past 14 to 15 inches; this may or may not pose as a problem.
If you do not want to spend money on getting a factory-installed song library all-in-one machine, you could check out the karaoke software on your laptop or desktop. There are a series of software for your picking, and the performance level ranges from basic to pro. The first things you need to learn to include the management of songs, and the ability to create a playlist (schedule songs in a sequence). The system should allow changes to the songs and performer line-up as your party is ongoing.
If you want to save a lot of money then go with a digital system with a built-in MP3 music library, it is also lightweight, thereby making it portable and easy to carry around. Before making a choice, ask yourself what matters when it comes to flexibility, portability, and price.
---
2) TV Monitor System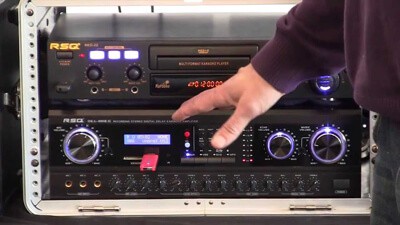 This system features a karaoke CD player and one or more speakers. It doesn't come with its monitor, so you need a TV to display the lyrics on, you can also connect it to your stereo system. Some modern designs are as small as a DVD player; thus, they are portable; however, a TV is still required. The TV monitor system may feature a vast library of songs, but this depends on the system, for some of the other systems, you have to buy the songs separately.
It is easy to connect a karaoke machine to your TV or VCR; it is even more accessible if it is a TV monitoring system with an in-built microphone. Some individuals connect more speakers to give them a feeling of real performance. You can add the extra speakers to the stereo system or television. It is best to go for speakers with feedback reducers or eliminators for the best sound quality.
Just follow the usual procedure in connecting the color-coded wires. It is easy; the yellow cord is the video cable that is plugged into the video-in-port that is on the Tv and the video-out port on the karaoke system.
---
3) Built-in Microphone Karaoke
This system features an in-built music selection, and a microphone, TV connection is easy, and you can connect to your stereo system. The TV monitor system is also an in-built microphone karaoke system. The microphone also doubles as the player, needing nothing heavy. Some songs have different cartridges available to them, but some microphones have at least 300 songs or more in them.
---
4) Portable Karaoke Machines
These are plug-in and play systems. Portable doesn't imply that it is okay for kids; children's karaoke machines usually have limited functions and performance. They include speakers, video screens, amplifiers, and a microphone set that has the same functionality as a static machine. They are also moveable.
Consider the quality of sound and power before choosing a portable karaoke machine. They are easily connected to a home system but require a stereo system to function correctly if you want to use it somewhere else. It is harder for it to sync at a venue than at home with a home system. The whole machine may need replacing if one component stops working.
When it comes to the price, they can go for as little as $100 pounds to as high as $500 depending on the brand, sound quality, and reliability. The price you are willing to pay depends on the intended use of the machine.
---
5) Home Karaoke Machine
You are in charge of controls when it comes to the home karaoke machine, just plug in and enjoy, a TV is needed to show the lyrics for the songs that are being played. Some of these systems have included a screen and allow connections of two or more microphones, which allows a group performance or duet.
The different connections on this system permit you to connect more than one device like a stereo system, microphones, TV screen, and also effects like autotune. This system allows you to play DVDs, CDs, and music from your phone as long as it is compatible. Some of these machines have a recording feature that allows you to make records of performances.
They are not as pricey as the professional karaoke machines, browse through our site and see what's available to give you an idea of the price range for a quality, durable system.
---
6) Professional Karaoke Machine
Professional karaoke machines are sometimes made of different components or are a complete machine. If the intended purpose of you getting a karaoke machine is for a bar or somewhere similar, then you want to go for the component-based machine that features amplifiers and recorders.
Professional karaoke machines also work well in the home, especially the independent systems with microphones, mixer, screen, and high-quality speakers; therefore, you do not need an amplifier. Karaoke lovers usually prefer this option as it suits their needs.
The professional karaoke machine's prices depend on the function it performs; the prices start around several hundred to as high as a few thousand for the high-end ones. Also, look out for features such as a DVD player, in-built hard drive, automatic track changes, and vocal effects for the best experience.