(Last Updated On: June 27, 2023)
BecomeSingers is reader-supported. When you buy through links on our site, we may earn an affiliate commission. Learn More
Are you looking for the best DAWs on the market to record your vocals? Do you want your songs to be radio-ready as soon as you finish recording and mixing them? Well, there are plenty of DAWs out there to help you do that. However, we have 7 of the best DAWs for you today that are guaranteed to give you exceptional results and help you achieve the crystal-clear high-quality sounds you're looking for.
Most DAWs (Digital Audio Workstations) can efficiently record your vocals. That's what DAWs were designed to do. They allow users to record and edit audio, arrange music, build and edit MIDI tracks, and so on. However, not all DAWs were created equal. Some have better native plugins you can use to enhance your vocals and support for 3rd party plugins that are also made to provide an additional shine to your audio tracks. Some have essential features like comping (combining multiple vocal takes into one main take that has the best parts of each take), while others don't. So it's crucial to know what DAWs will give you the best results and deliver radio-ready vocals.
Also Read: Best DAW for Mixing and Mastering
7 Best DAWs to record vocals:-
Topping our list today is the legendary Pro Tools by Avid Technology. Pro Tools is an industry standard used by most commercial music production studios worldwide.
You can make beats, arrange and mix sounds, record instruments, mix & master, and most importantly, record vocals. One of the main reasons Pro Tools remains the best for recording vocals is that it has 5 record modes: normal, loop, destructive, quick punch, track punch, and destructive punch. Most of these modes are excellent for comping (the process of combining multiple vocal takes into one final take) which is essential for efficient vocal recordings. Pro Tools has a speedy and fluid workflow that any music producer would appreciate. It remains the dominant DAW (Digital Audio Workstation) in the world of audio production today. Whether you need it for recording songs or a movie soundtrack, Pro Tools always delivers.
Interface
The interface is divided into two categories: the main and mixer windows.
The main window takes up most of your workspace, and it's where you see your tracks, instruments, tempo, and editing buttons, such as looping or grouping your tracks. It's basically the main interface before getting into the second production stage, which is mixing.
The mixer window is where you have all the plugins that let you control the envelope of a sound, whether it's volume, panning, automation, or handling inputs and outputs. The mixer window is where you shape your sound before eventually sending it to get mastered.
Features and Plugins
Pro Tools has plenty of features and plugins that help you shape your sound, such as; the Comping feature, record modes, auto-expanding grid/nudge display, pre-roll/post-roll feature, and offline bounce of Dolby Atmos re-renders. Along with quantizing enhancements and MIDI workflow improvements.
Pros and Cons
Pros:
Industry standard.
Low latency.
Powerful mixer.
Powerful Multitrack Editing.
Quality Plugins.
Versatile.
Ideal for Multimedia Projects.
Best known for vocal and post-production recording.
Cons:
Limited stock plugins.
Interface is a bit "old-school."
Random crashes.
Monthly or yearly subscription fees instead of a one-time fee.
Logic Pro X is another extremely intuitive and the best DAW released back in 1993 that's also ideal for vocal recording. It's powerful, creative, and perfect for songwriting, beat-making, editing, and mixing. It is used by many professional musicians and has gained a reputation for being one of the best DAW software on the market in terms of versatility. You can use Logic Pro X's own plugins to record high-quality vocals or use 3rd party plugins if you're looking for more ways to process vocals.
Interface
Logic Pro X's interface is pretty intuitive and easy to navigate. The Tracks area, one of Logic Pro's primary workspaces, is where you record, add, edit, and arrange audio and MIDI to build your project. And there's the Inspector section where you can view and edit the parameters of your tracks. It's relatively easy to use and similar to most DAW software out there.
Features and Plugins
It has many features and plugins, including full control of your music-making sessions from your iPad or iPhone with Logic Remote. Integrated Dolby Atmos tools for mixing and exporting songs as spatial audio. Expanded surround mixer and new 3D object panner. New sound packs. Multi-Touch mixing, and many others.
Pros and Cons
Pros:
Very intuitive.
Plenty of features.
Stable and reliable.
Great for live music performances.
Cons:
Workflow is better for editing than arranging.
Only compatible with Mac.
Also Read: Best Vocal Processors for Recording
Ableton Live is on its way to becoming an industry standard, especially in the EDM world. It's full of features, has a straightforward and flexible interface, and is filled with high-quality plugins to help mix and master your vocals. It is one of the most popular and best DAW software on the market and has gained extra points for including a session view in its interface that is used in live performances, making it extremely popular on stage and a musician's favorite.
Interface
Live's interface is divided into two views. The session view, which is grid-based and non-linear, is used for live and DJ performances. And the arrangement view is the classic left-to-right linear view that allows for more complex editing, mixing, and mastering.
Features and Plugins
Ableton Live has many key features, such as unlimited instruments, audio effects, and MIDI effects per project. Advanced warping and real-time time-stretching. Powerful MIDI sequencing of software and hardware instruments. Multitrack recording up to 32-bit/192 kHz. And unique Session View for quick, intuitive composition and improvisation.
Pros and Cons
Pros:
Very powerful DAW.
Quick workflow.
Session view for live performances.
Helps with creativity and inspiration.
Is rich with features.
Cons:
No notation view.
Can't export to MP3.
Garageband is a superb and user-friendly DAW (Digital Audio Workstation) that is only compatible with Apple systems. It's known as Logic Pro's younger brother, but that doesn't mean it can't offer excellent results and great vocal recordings. You can use Garageband's samples and sounds or plug in your own instrument and start jamming right away. It is the most user-friendly of the DAWs listed so far.
Interface
The interface is very straightforward and simple. You have the track and headers windows, where you load your instruments and control them. And the editing and smart control windows where you manipulate and shape your sounds using Garageband's native or 3rd party plugins.
Features and Plugins
Some of Garageband's main features and plugins are; shaping dynamics with dynamics processors like compression, EQ, and limiters. Mixing and Recording vocals. Editing MIDI and audio tracks. The "Drummer" virtual session player was created using the industry's top drummers and recording audio engineer. Powerful synths with shape‑shifting controls. And tons of helpful recording and editing features to help you sound like a pro.
Pros and Cons
Pros:
Easy to use.
Easy to manipulate multiple tracks.
Can export in MP3 format.
Cons:
Compatible with only Apple products.
Large project files.
More of a beginner-friendly DAW, too basic for professionals.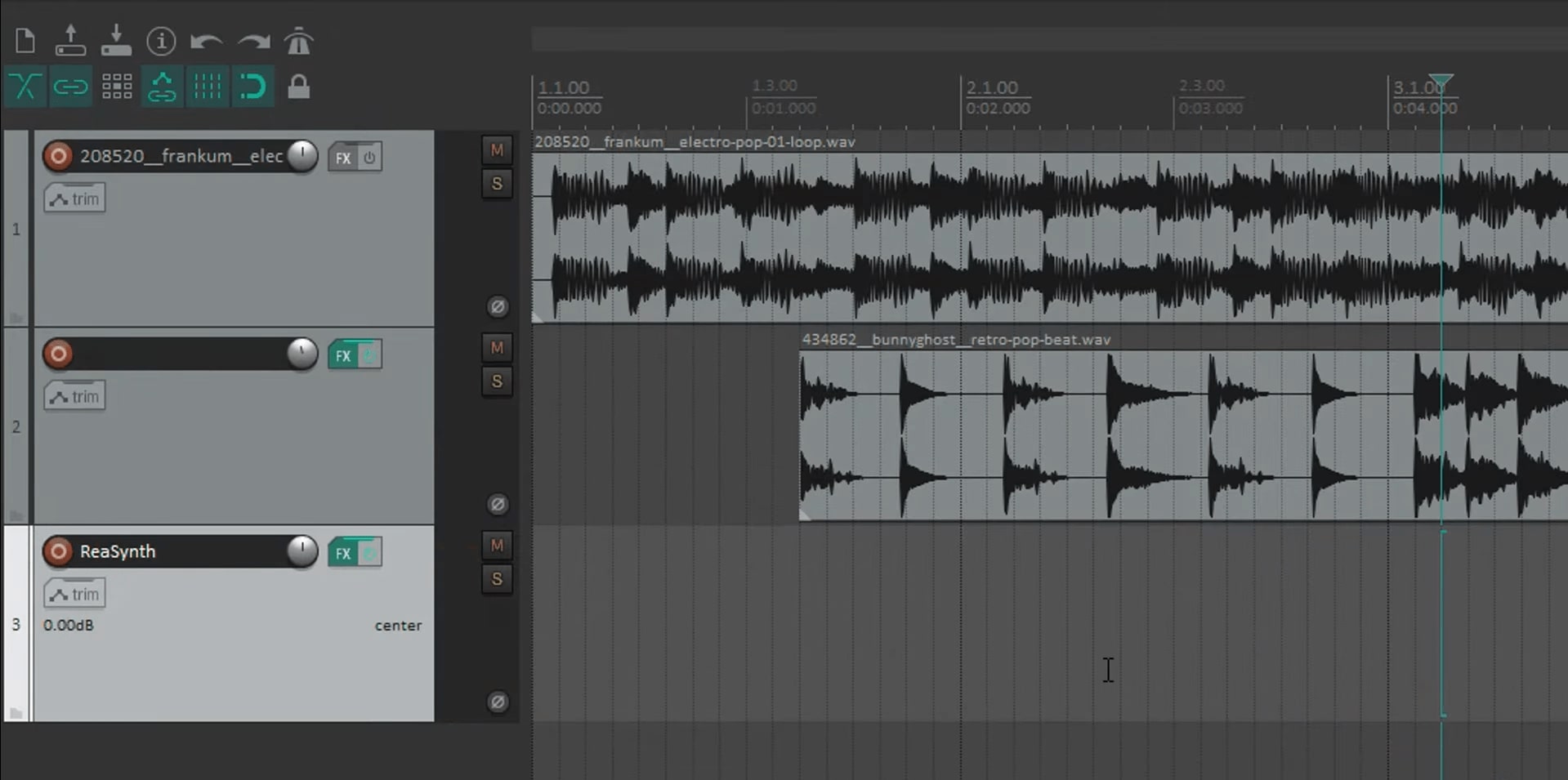 Reaper by Cockos is another outstanding DAW for recording vocals primarily due to being one of the least CPU-heavy DAW software on the market. It's been around since 2006 and has gained a reputation ever since for being an extremely efficient and stable DAW (Digital Audio Workstation) while still being one of the most affordable and best DAWs out there at just $60. You can mix your vocals in Reaper using plenty of its great native plugins or use 3rd party plugins for some more shine.
Interface
Reaper's interface is actually quite similar to Pro Tool's interface, where you have the main window and the mixer window. It does differ, however, in shortcuts and functionality. It has a very simple layout that's great, especially for beginners, and it offers video tutorials to help you get started.
Features and Plugins
Reaper has a set of impressive features such as; Powerful audio and MIDI routing with multichannel support. 64-bit internal audio processing. Import, record, and render to many media formats at almost any bit depth and sample rate. Support for thousands of third-party plug-in effects and virtual instruments, including VST, VST3, LV2, AU, DX, and JS. Hundreds of studio-quality effects for processing audio and MIDI and built-in tools for creating new effects. Automation, modulation, grouping, VCA, surround, macros, OSC, scripting, control surfaces, custom skins, and layouts. And many more to help you shape and manipulate your vocals.
Pros and Cons
Pros:
Stable and reliable.
Extremely customizable.
Has tons of native plugins.
Affordable.
Offers a free, fully functional 60-day evaluation period.
Compatible with Windows, Mac, and Linux.
Cons:
Requires extensions to unlock its full potential.
No built-in instruments.
Doesn't have the most "visually appealing" native plugins.
Can be complicated to learn.
Also Read: Best Room Microphones for Live Recording
FL Studio has been a leader in the music production business for the past 20 years and is widely considered many professional producers/engineers' first DAW. Artists like Avicii and Martin Garrix have adopted FL Studio and have used it to create some of their greatest hits and albums. FL Studio makes it simple to recording vocals because it includes a multitude of great native plugins as well as support for 3rd plugins that help you achieve crystal clear sound.
However, FL Studio appears to have one guideline for recording vocals: never record them to the Master Mixer track. So remember this rule the next time you're recording.
Interface
FL Studio's interface is similar to most DAWs and is very user-friendly. There's a main window that contains the track window, browser, channel rack, and piano roll. And another window for the mixer. It also allows the use of two (or more) monitors for a smoother workflow.
Features and Plugins
The number of features and plugins differ depending on the version of FL Studio you decide to buy. However, if you really want to see what FL Studio has to offer, you should consider purchasing the "All plugins edition." This edition contains audio editors, instruments & effects, audio recording functionality, audio clips, playlist features, effects, MIDI support & scripting, included samples, loops & presets, and free lifetime updates. All other versions of FL Studio contain the same features; however, the effects, audio editors, and instruments seem to be more limited.
Pros and Cons
Pros:
User-friendly and great for beginners.
It has many features, samples, plugins, and presets.
Support for 3rd party plugins.
Easy workflow.
Good for recording vocals.
Free DAW software
Cons:
Confusing routing.
Might want to work with 3rd party plugins rather than FL Studio's own native plugins.
Could be challenging to learn if you're new to the music production world.
Music Maker Premium is one of the best DAW for beginner musicians. If you're just getting started and want to try the product, you can just download "Music Maker 2023 Free." You can record vocals and enhance them with Music Maker's native plugins like the EQ and Compressor. And even if you don't have Vocal Tune and are using the free edition, you can mix vocal recording and backing tracks by using the high-quality effects that the free version provides and export them later on.
Interface
Music Maker's interface is quite user-friendly and also similar to most DAWs. However, in Music Maker, the browser seems to be on the right side of the screen, unlike all other DAWs that have built it on the left. Besides that, you get your usual track window, piano roll, channel rack, and mixer.
Features and Plugins
Music Maker Premium has plenty of features and plugins such as 3 Soundpools + 1 Collection (of your choice), Beatbox Pro 2 , modernEQ, wizardFX Suite, CoreFX VolumeFormer, 7 instruments, 36 effects, unlimited tracks, 64-bit and multi-core support, and Song Maker AI Intelligent Song Creation. Plenty of options to help give you great-sounding vocals.
Pros and Cons
Pros:
Fast workflow.
Great entry-level software for musicians and beat-makers.
Offers a free version for testing and experimenting.
Affordable (The premium version costs only $99.99)
Has in-app tutorials.
Cons:
Mediocre and a limited number of sound samples.
Limited if you're an experienced music producer.
Not very versatile.
Factors to Consider When Choosing the Best DAW to record Vocals
Before purchasing (or downloading) a best DAW for recording vocals, there are many factors to consider to avoid wasting your money or time.
Some of these factors are:
Your Needs and Aspirations
Are you looking for a DAW solely to record vocals and just vocals? Is there a specific genre of music you're working with, or are you still trying to find your sound?
Many DAWs seem to have found their space in the music production world. Ableton Live has gained its reputation for being one of the top DAWs for producing electronic music and being a favorite amongst DJs and live performers with its unique feature, "the session view." Pro Tools has gained a reputation for being the best DAW for post-production mixing and vocal editing due to its features and plugins, which is why you have to carefully choose the right DAW and see what best fits your needs.
Budget
Even on a small budget, you can purchase a good DAW that produces audio quality very high and recordings. Many professional DAWs even provide free trials before you buy them. Waveform Free, Cakewalk, and Garageband are all excellent free DAWs for you to check out.
Operating System
Most DAWs are compatible with both Windows and Mac. Some even work on Linux. Still, it would be best if you made sure the DAW of your choice works with your operating system to avoid unnecessary refunds and wasting time. For example, Garageband and Logic Pro X are exclusively available on Apple devices, whereas Cakewalk is only available on Windows. So before purchasing a best DAW, make sure to select one that is guaranteed to work on your operating system.
The Interface
What you need is a user-friendly interface that makes your music-making process an enjoyable experience. You don't want to pick a DAW with a complicated interface that continuously causes issues, making your music production experience semi-horrible until you get sick of making music and give up. You can choose any of the best DAWs on today's list because most of them are user-friendly and will give you a great experience.
A Lifelong Access
DAWs advance as quickly as technology does. They go hand in hand. And with that comes regular software updates that promise new features and plugins, among other things. However, you do not want to be charged for every released software update. So when you purchase your preferred DAW, ensure it includes free life-long updates to save yourself some cash and unnecessary stress.
FAQ
What DAW do singers use?
Most professional singers often prefer Pro Tools. It has been around since 1991 and has managed to establish itself as the industry standard. Pro Tools is found in most –if not– all recording studios. It delivers superior audio, is user-friendly, and features some of the best plugins and tools for vocal recording. Logic Pro X is a solid second-place choice.
What is the most used DAW?
Since each company claims to own the most popular DAW, it can be challenging to determine which DAW is actually the most popular. However, Pro Tools and Ableton Live seem to be the world's favorites right now, along with Logic Pro and FL studio. We can conclude that Pro Tool is the most widely utilized DAW because it can be found in most recording studios, as we recently mentioned. It also makes sense that Ableton Live would be ranked second on that list, given how popular it has grown among DJs, live performers, and electronic music producers.
Which DAW has the best stock instruments?
When it comes to stock instruments, Pro Tools is once again the winner. It contains a large collection of high-quality plugins, which you can expand by buying the "Avid Complete Plugin Bundle," which gives you over 75 different plugins, including dynamics and EQ. Effects, filters, and emulators. Reverb and delay. Stompbox effects and virtual instruments.
Conclusion
All DAWs we mentioned today will help you recording vocals and make music. In fact, this is what all DAWs were designed to do. However, what you need is a DAW with a user-friendly interface that makes your job easy and enjoyable. A DAW that delivers and exports high-quality audio and one with premium mixing plugins to help you shape and polish your vocal recording software so you can sound radio-ready. And in that case, Pro Tools fits the best of those three worlds and is guaranteed to make you sound like a professional.