(Last Updated On: March 31, 2023)
BecomeSingers is reader-supported. When you buy through links on our site, we may earn an affiliate commission. Learn More
Pianos are one of the most expensive musical instruments available. While many people opt to learn piano, very few consider the placement of the instrument. Most pianos are placed in rooms where they are not exposed to sunlight. Since this helps maintain its overall condition, pianos are often placed in inner rooms, near inner walls, or in dim-lit parts of the property.
This can be especially troubling for pianists because they have to strain their eyes to read the sheet music. To solve this problem, piano lamps were invented. However, very few people know what piano lamps are and how to choose the right one. This article highlights crucial information about piano lamps, the things to consider when purchasing one, and the 20 best piano lamps available in the market.
Also Read: Best Small Pianos for Apartments 2022
What Is A Piano Lamp?
A piano lamp or piano light is a lamp designed specifically for the piano. The angles and the structure of the lamp are such that it illuminates only the sheet music and the keyboard. They are often bright, which helps the pianists by providing suitable ambient lighting without damaging the piano. It can help them avoid blurred or double vision, red or dry eyes, and other issues caused due to sensitivity to light.
Things To Consider When Purchasing Piano Lamps
It is essential to understand that not all piano lamps are suitable for every model. As experts in the field, we believe there are four steps to finding the right piano lamp for your instrument.
The Type Of Piano
The first thing to consider is the type of piano you own. Pianos are generally divided into three types: upright piano, grand piano, and digital piano. Depending upon the piano you own and its size, you will have to purchase the lamp.
The Type And Size Of The Lamp
Piano lamps are of six types:
Floor piano lamp
Cordless piano lamp
Clip-on piano lamp
Banker's piano lamp
Table lamp
Desk piano lamp
Each provides a different level of illumination. You need to choose the one that best suits your instrument and the nature of the lamp's illumination.
The Temperature Of The Piano Lamp
Ordinarily, the temperature is divided into three categories: living room type, bedroom type, and kitchen type. Living room lamps are the brightest, followed by the kitchen and the bedroom. Therefore, you should select a piano lamp depending upon the temperature you are comfortable with.
Light Certification
Piano lamps can be certified by IEC 62778, TR 62778, IEC 62471, EN 62471, and IEEE1789. These certifications define the levels of brightness for the lamp. So, consider the certification of the piano lamp when purchasing it.
20 Best Piano Lamps For All Budgets
There is a broad spectrum of piano lamps that cater to pianists' unique requirements and expectations, whether it is in terms of shape, size, illumination, or the overall design. However, here are some of the best quality products you must certainly consider choosing from.
This desk piano lamp comes with interchangeable bases and a clamp made from aluminum. The piano lamp has three color modes of brightness that can be adjusted according to the time of day. The arm of the lamp is 360-degree flexible.
---
If you are looking for a piano lamp with antique features, this is the perfect fit. The lamp is available in stainless steel finish or matt black finish. The lamp is 14.5 inches and comes with corded electric power.
---
The polished brass piano lamp comes with one bulb of 6 Watts. It has 88 lumens generation and comes with a fixed lamp head. The lamp base is movable and can be used as a holder for sheet music.
---
A traditional desk piano lamp amazon, the lamp provides 360-degree lighting. It is available in three colors: black, brown, and chrome. The lamp has an energy-efficient 5-watt LED bulb. The temperature of the lamp is 3000 K, and it has an adjustable head.
---
Known as the eye-caring desk piano lamp amazon, this piano lamp comes with four color modes and four brightness levels. The lamp also includes a USB charging port and a battery that lasts up to 1 hour when fully charged.
---
The floor piano lamp comes with an energy-efficient bulb with 50,000 hours guarantee. It is fully adjustable. The minimalistic design of the lamp also includes a felt lining at the bottom to protect floorboards and tiles from scratches.
---
Contemporary style grand piano lamp amazon comes with an incandescent bulb type. It is a clamp-style piano lamp that can be moved according to requirement. The product comes in various finishes and is made from brass
---
Celyst LED desk lamp can also be used as a grand piano lamp. It comes with three color modes and a step-less dimming function for better control. It also has an adjustable and flexible neck, allowing you to redirect light as needed.
---
SICCOO LED lamp comes with two swing arms that can be used as a grand piano lamp. The lamp comes with adjustable brightness and temperature controls. The lamp produces light uniformly with no flicker, glare, or shadow.
---
The grand piano lamp comes with integrated LED lighting technology. Its design allows it to fit over any 1-inch thick music board. Plus, it has a fully adjustable 19-inch long neck for optimal lighting.
---
Silver finished lamp looks like a piano lamp antique that will especially suit if your unit has an antique decor. It has a round base, a metal shade, and a 14-inch long neck that provides optimum illumination.
---
Classic-looking piano lamp for an antique look with your piano. The lamp uses a standard 60-watt bulb. This is also one of the best brass piano lamps available online. The bronze finish gives the lamp a rustic look perfect for all grand pianos.
---
Available in four finishes, this is the perfect floor piano lamp if you want complete illumination. The lamp includes four brightness and color adjustability points with a bulb that can last for 50,000 hours. Besides, it is fully adjustable in height and angle.
---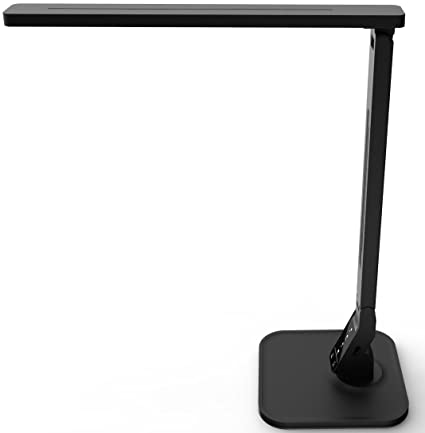 LAMPAT Lamp comes with four reading modes. The lamp has 5-level dimmer settings as well as a touch-sensitive panel. It is perfect if you are looking for an upright piano lamp. It also has an inbuilt 60 min timer.
---
Popular for being eye-protective, the lamp has five temperature settings and dimming modes. It is made from an aluminum body. The shade can be adjusted to 90 degrees and 60 degrees depending on the pianist's requirement.
---
A professional piano lamp, it comes with three color modes. The lamp also includes step-less dimming and is a recommended grand piano lamp. The lamp includes a neck that is 22 inches long and adjustable according to the pianist's height.
---
Quntis ultra-wide lamp is 55 inches wide and comes with 55-inch LED lighting ideal for professional pianists. It also includes an auto-dimming function and a 2-hour timer. The design also integrates well a sheet music stand.
---
Cocoweb directional desk piano lamp comes in three shades: mahogany, antique brass, and black. The product has a short neck that provides direct illumination to the keys. The round base can be affixed directly onto the piano.
---
Available in 2 colors, silver and black, it includes three color temperature settings and a rated lamp cap. Additionally, it also comes with an anti-glare technology feature, preventing your eyes from straining out. It does not require permanent installation and can be moved.
---
A smart LED lamp with a tilting head includes four lighting modes, five dimming modes, and a touch-sensitive control panel. The LED lamp has a 100,000-hour rating. It is lightweight and small, ideal for baby grand pianos or smaller pianos.
---
Closing
These are the 20 best piano lamps available for all budgets. This article covers a wide variety of lamps, from grand piano lamps and desk piano lamps to floor piano lamps. If you are looking for a new piano lamp for your instrument, these are the perfect choice.
Alternatively, you can also purchase pianos with lighted keyboards. Take a look at our list of best-lighted keyboards for pianos to learn more.